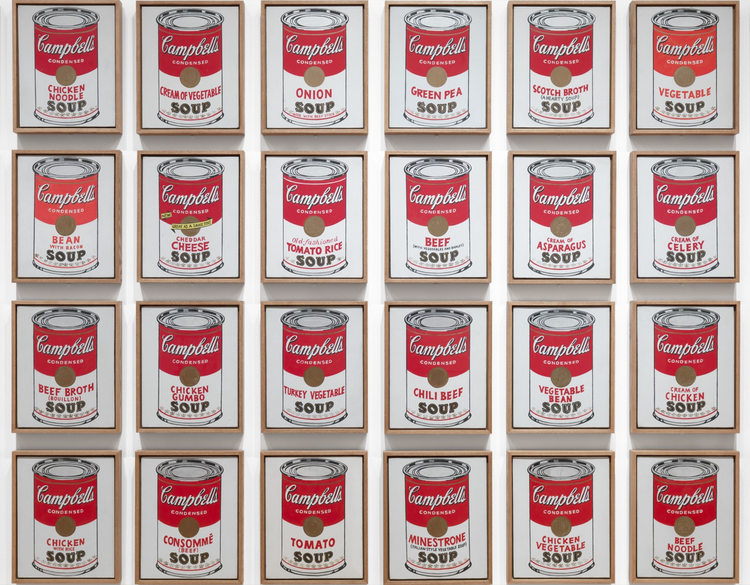 What is Pop Art?

Few artistic movements have as much appeal to the global public, collectors or not, as Pop Art. The images that Pop artists use, their coloring and repetitions make Pop Art unmistakable. However, its history and origins are not as well recognized. Before we tell you a brief history of how the movement originated, let's review some of its main features.
Pop Art, which emerged at the end of the 40s of the 20th century, was characterized by its confrontation with Ancient Art, by its bright colors, by "popular" elements, by the use of "decontextualization" and by the contempt for virtuosity, provocation, humor, and also being incongruous. Does this sound familiar?
The truth is that we could not understand the work of artists like Jeff Koons or Damien Hirst, without knowing the postulates of Pop Art. 

Brief History of Pop Art
Pop Art is an artistic movement that emerged in the United Kingdom and the United States in the mid-twentieth century, and represented a challenge to the traditional "Fine Arts", by including images and representations of the most popular culture, such as comics, image advertising and worldly objects. It also relates to serial production, by the artist, by mechanical means, reproduction or rendering. The first artists who shaped the movement were Richard Hamilton in the United Kingdom, and Robert Rauschenberg and Jasper Johns in the United States.




In Spain, Pop Art is related to the so-called "movida madrileña" of the 1980s, with even some critics calling director Pedro Almodóvar "the warhol Spanish" at the beginning of his career. The reality is that Spain has produced great artists who have used Pop Art as a way of expressing their art, names like Eduardo Arroyo, Equipo Crónica or Manolo Valdés, are the best known. The "girls" of Valdés are a quintessential Spanish pop icon, as is the Osborne bull, a popular wine brand that populates Spanish roads and many pop works.
In Portugal, as in Spain, Pop Art also arrived late, and from its own cultural movement.
Many young artists, scholarship holders of the Gulbenkian Museum, traveled to London in the 1970s, bringing with them the color and transgression of pop and the hippie movement. Artists of that time such as Lourdes Castro, Fátima Vaz, Ruy Leitão or João Cutileiro. On Wikipedia we can find the history in detail, and by country, of this artistic style (to see).

Iconic works of Pop Art

Hamilton's work "What makes today's homes so different, so attractive?", a collage created in 1956, is considered the work that inspired Pop Art in the United Kingdom. It incorporates many recurring pop art themes: television, cinema, newspapers, household appliances, cars, space...
Andy Warhol is perhaps Pop Art's most recognized and recognizable artist. The American artist, through his art, gave Campbell's soup the status of an icon of the 20th century: it all started in 1962, when he composed 32 hand-painted canvases, representing different flavors of soups. "I used to drink. Eating every day, for twenty years, the same over and over again", thus seemed inspired to mass-produce reproductions of everyday objects, film actresses and music legends.
What's more popular than an American flag, the stars and stripes? Perhaps the American flag painted by Jasper Johns. The Moma website tells the story of the genesis of the work "Flag", from 1954: "One night I dreamed I was painting a big American flag and the next morning I got up and went out and bought the materials to start painting it..."
We finish the review of iconic works of Pop Art with another of the great artists of the movement: Roy Lichtenstein. His 1963 work "Whaam!" it represents the artist's style very well: images borrowed from comics, onomatopoeias and lots of color.




Present and Future: Neo-Pop and Pop Art in Japan

Neo Pop is considered the artistic movement, which originated in the 80s of the 20th century, as an updated version of Pop Art (although some critics do not consider it that way), in any case, the bases are very similar: use of mass culture images , now with more sources of inspiration and more media icons, iconography inherited from advertisements or comics. Very similar to the previous move. The main difference would be in the new materials and in the possibility of combining images from different historical periods. The most important names of neo-pop artists are Jeff Koons, Keith Haring, Giuseppe Veneziano, Kenny Scharf, Lee Quinones, Mark Kostabi and Robert Combas.
To finish the article on Pop Art, it is necessary to make a paragraph to talk about Pop Art in Japan, with its peculiarities. Japanese pop artists are largely inspired by anime and manga, but also by ukiyo-e and traditional Japanese art.
Today, the best-known pop artist in Japan is Takashi Murakami, known worldwide for its own mass-produced surreal art movement with a heritage of anime and Japanese street culture. His influence reached the West, and we can find his work in fashion clothes, art galleries or even sports. As a relevant fact, he defined a term for his style, Superflat.
Superflat describes the aesthetic characteristics of the Japanese art tradition and the nature of post-war culture. But it is also used to describe Murakami's own artistic style and that of other Japanese artists who were influenced by him.
No less important is the figure of Yayoi Kusama: this multidisciplinary artist sold one of her works in 2008 for 5.1 million dollars at Christie's in New York. Despite its age, it continues to fill exhibitions around the world, and its image is also an icon of 21st century art. Long live Pop!



Pop Art at P55
At P55 you can often find Pop Art works for sale. We detail below some of the pop artists represented in Pop Art and Neo Pop.
Andy Warhol: https://www.p55.pt/collections/andy-warhol
Fernando Bellver: https://www.p55.pt/collections/fernando-bellve
Lluís Barba: https://www.p55.pt/collections/lluis-barba
Keith Haring: https://www.p55.pt/collections/keith-haring
Roy Lichtenstein: https://www.p55.pt/collections/roy-lichtenstein
Antoni Tàpies: https://www.p55.pt/collections/antoni-tapies
João Cutileiro: https://www.p55.pt/collections/joao-cutileiro
rueffa: https://www.p55.pt/collections/rueffa