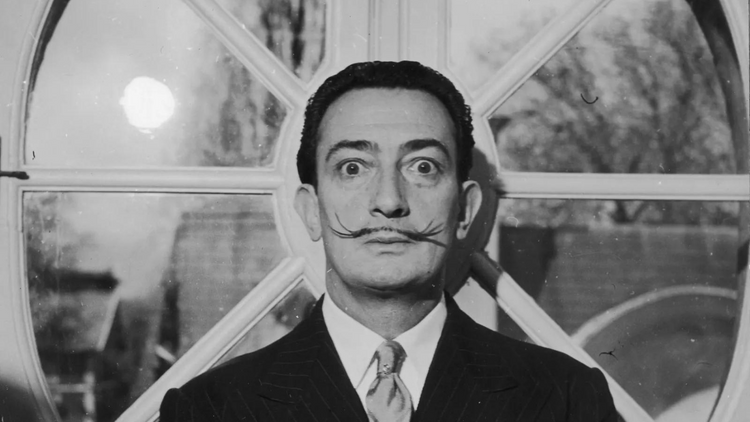 Who was salvador Dalí?
By creating a plastic language with fascinating compositions, the Spanish artistSalvador Dalí (1904–1989) became one of the leading figures of surrealism. This movement, which fits in with the vanguards of the 1920s, proposed the transposition and liberation of the unconscious in plastic experiences. His works «The Temptation of St. Anthony» (1946) and «The Persistence of Memory» (1931) presented at the time a completely innovative way of understanding the irrational, through objects such as melted clocks and extraordinary animals. In addition to being an artist,Salvador Dalí he was a writer, filmmaker and during his career he cultivated his eccentric personality, based on his behavioral and physical characteristics, such as his famous mustache and his pet an anteater (ant-bird).
1.Believed to be a reincarnation of the brother who passed away.
Salvador Dalí was not the only one salvador from your family. Your father was called salvador, but also his older brother. the brother ofSalvador Dalí died nine months before the artist was born. When the famous artist was 5 years old, his parents took him to his brother's grave and told him that he was his brother's reincarnation. A concept that Dalí himself believed in, with his older brother a prominent figure in the work, such as the 1963 "Portrait of my Dead Brother".
2. Started painting as a child.
The oldest known Dalí painting was produced in 1910, when the artist was just 6 years old. Entitled Landscape of Figueres, the oil-on-postcard scene depicts the verdant hills and mountainous backdrop of his hometown in Catalonia, Figueres. The stunning piece reveals the iconic artist's incredible natural talent at such a young age. Currently the painting hangs in the MuseumSalvador Dalí in St. Petersburg, Florida.
3. Got kicked out of Art School (twice).
Salvador Dalí got kicked out of art school – not once, but twice. Young Dalí's artistic talent was fostered from an early age, mainly by his mother, who died when the artist was just 16 years old. While studying at the Academy of Fine Arts in Madrid, he became known for his eccentric behavior and outfits. He was first expelled in 1923 due to a student protest, however after returning to school he faced a second expulsion shortly before his final exams in 1926. In his 1942 autobiography, The Secret Life ofSalvador Dalí, the artist wrote that he was expelled because he did not want to take the oral exams. "I am infinitely more intelligent than these three professors and therefore I refuse to be scrutinized by them. I know this subject very well." But the expulsion did not delay him, that same year he traveled to Paris for the first time and met his idol, Pablo Picasso.
4. I didn't use drugs.
Although the surreal art ofSalvador Dalí and his eccentric behavior might make you think otherwise, the artist did not use any chemical substance to alter his state. In fact, the artist declared: "I don't do drugs, I am drugs". To stimulate his creativity, in the early 1930s, he developed the critical-paranoid method, which allowed him to access his subconscious. One way to maintain yourself in a dreamlike state included staring at a particular object until it morphed into another form, triggering a kind of hallucination.
5. I didn't have a conventional marriage.
Elena Ivanovna Diakonova, known as Gala, was ten years Dalí's senior and married to surrealist poet Paul Éluard when they met in 1929. A love affair quickly developed, with Gala eventually divorcing Éluard - although they remained Upcoming. The couple were married in a civil ceremony in 1934, despite the Dalí family's discomfort with him marrying an older Russian divorcée. Gala played a pivotal role in the artist's career, becoming his business manager and muse. In the 1950s, Gala was publicly involved in extramarital affairs, although Dalí is said to have encouraged this. And in 1969, when Dalí bought her a Catalan castle in Púbol, it was specified that Dalí could visit her there only if invited in writing. There is no doubt that they shared an intense and cerebral love. He wrote: "I would polish Gala to make her shine, make her as happy as possible, taking care of her more than me, because without her everything would be over".
6.Collaborated with Disney.
In 1946, Salvador Dalí and Disney designer John Hench worked together on the animated film called Destiny. Dalí created 22 oil paintings and numerous drawings that Hench turned into film storyboards. However, just 8 months later, work stopped for financial reasons and the film was left unfinished, with only 15 seconds of demo completed. In 1999, Walt Disney's nephew and longtime senior executive of The Walt Disney Company, Roy E. Disney, decided to revive production of Destiny. The finished 6-minute short was released in 2003 and tells the story of a ballerina on a surreal journey through a desert landscape.