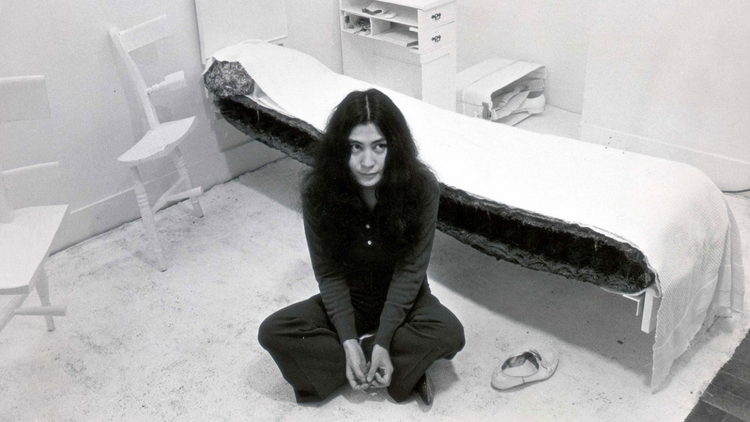 Language is a structuring element of Yoko Ono's creative construction
Ideas are the main component of your work, more than materials. Some are transformed into objects, while others are poetic and utopian, consequently reflecting the artist's sense of humor, as well as her markedly socio-critical stance. Yoko Ono played a pioneering role in the development of conceptualism, performance art and experimental film internationally. Learn more about Yoko Ono in this article.
Yoko Ono's avant-garde activities with the Fluxus group
Yoko Ono was born in Tokyo in 1933, studied philosophy at the traditional Gakushuin University in Tokyo, being the first woman in this department. After finishing her studies in Japan, she decided to move to New York in 1953. By the end of that decade, she was already involved in avant-garde activities in New York, producing happenings with Marcel Duchamp and Philip Glass, which included, for example, performances by the artist throw jam on screens.His first conceptual works appeared in the 1960s, along with a series of radical performances, with La Monte Young, in his Chambers Street apartment. Yoko Ono's early works had instructions that communicated with the public either verbally or in writing. These instructions, doable or improbable, often relied on the reader's imagination to complete the job. At times poetic, humorous, unsettling and idealistic, Ono's early instructional pieces anticipated his later works.In 1961, with the avant-garde group Fluxus, he held his exhibition and later, at the legendary George Maciunas gallery in New York, AG Gallery, he held a solo exhibition of his Instructions Paintings (1961).
Yoko Ono: Pioneer in introducing the public to works of art
In 1962 he returned to Tokyo, presented the Instructions Paintings at the Sogetsu Art Center and the performances he had already performed in New York. In 1964, Ono presented in Kyoto and Tokyo the performance Cut Piece and published Grapefruit, a book that brings together the instructions for his conceptual pieces. in performance Cut Piece, the artist sat in the center of the room, offered scissors to the public so that they could cut a piece of clothing. Yoko Ono was a pioneer in introducing the public to works of art, as the Serbian artist Marina Abramovic made it later. Painting to Be Stepped On (1960-1961), for example, invited people to step on a piece of canvas placed directly on the ground, physically or mentally. Though easily forgotten, the work radically questioned the divide between art and everyday life.
The relationship between art and life
Today, Yoko Ono is widely recognized for her pioneering films, which are considered classics of the 20th century. Ono's first films, also produced in the 1960s, reflect his way of poetically demonstrating the relationship between art and life. These challenge the traditional notion of filmmaking and are involved in independent film culture. In 1966 he made the first version of Film No. 4 (Bottoms) and participated in the collaborative installation The Stone, at Judson Gallery. In the autumn of 1966 she was invited to take part in the symposium "Destruction in Art" in London and also during this period she presented a series of concerts in England. In 1969, with John Lennon, he presented Bed-in and produced the peace campaign War Is Over! (if you want it).
Another campaign he created linked to world peace is IMAGINE PEACE, a permanent installation he created in 2007 on Viðey Island. Yoko Ono travels to Iceland every year to light her IMAGINE PEACE TOWER. The artist plays a significant role in the context of political and social intervention. Her installations consist of a mental creation, developed through the artist's investigation of architectural space as a historical void. The artist has also publicized her environmental concerns through sculptures such as Sky Machine (1966) and To See the Sky (2015), a spiral staircase installed under a skylight that visitors were invited to climb to contemplate the sky.In addition to recognition for his films, he also achieved recognition in other aspects such as performance and music — he is at the root of many of the musical forms of the new wave. Yoko Ono has exhibited her work all over the world, including major traveling, biennial and triennial exhibitions.

The Story of John Lennon and Yoko Ono: "The Woman Who Killed The Beatles"
The love story of John Lennon and Yoko Ono became iconic, not only because of the tragedy and fame of John Lennon, but also because of everything they did together, their honeymoon to protest the Vietnam War, the movies and the songs. This was an unconventional relationship, and Yoko Ono, despite the divorce still today, lives in the apartment overlooking Central Park in New York, opposite the place where the musician died.For many years, the story of Yoko Ono was told as she had only emerged in the artistic world after meeting John Lennon. She was the target of accusations that became official legend – "the woman who ended the Beatles" and who unleashed a whirlwind of feelings, between hateful impulses such as misogyny and racism, a profound misunderstanding and total ignorance of Yoko Ono's path.
"Yoko Ono's path was already long when she joined John Lennon, a relationship that amplified her scope of action while, paradoxically, obscured her position as an artist. Lennon once described her as "the most famous unknown artist in the world: everybody knows her name and nobody really knows what she does". In it, Yoko found a partner, someone who promoted an absolutely egalitarian relationship and who was motivated by her ideas and ambitions. With it, he also gained the ideal stage to expose, on an unprecedented scale, his desire to blur as much as possible the boundaries between art and everyday life, between the work of art as an exclusive creation of its author or a gesture that is only completed with the intervention on the other (...) When he created with Lennon the emblematic Bed in for peace in Amsterdam, 1969, a happening that became a media event and became a happening, he was applying precisely the same methods and the same form of action that had previously been reserved for a media environment. artist that he considered too closed in on himself. We witnessed the same, incidentally, when, inspired by the transforming force and popular impact of rock'n'roll, she created experimental music albums with Lennon such as Two Virgins, or when her solo music was referred to as a reference by bands such as B'52s or the Sonic Youth" — Mário Lopes in "Finally, we only managed to see Yoko Ono", Público.
The Journey of Yoko Ono
Since emerging onto the international art scene in the early 1960s, Yoko Ono has made profound contributions to visual art, performance art, film, experimental music, and has influenced the international development of the Fluxus group and conceptual art. Yoko Ono's collaborations with her late husband, Beatles legend John Lennon, including Bed-In (1969), an anti-war protest that boldly communicated her commitment to social justice, are forever etched in our memory. She never confined her work to the gallery space and insistently continued to present cutting-edge works that promote world peace and transform the barriers between art, politics and society. In recent years, Yoko Ono has embraced social media as a way to communicate her messages artists and activists to an even wider audience. His works have been exhibited at the Museum of Modern Art in New York, at MAXXI in Rome, at the Faurschou Foundation in New York, at the Serralves Museum of Contemporary Art in Porto, at Château La Coste in Provença de France, among others.