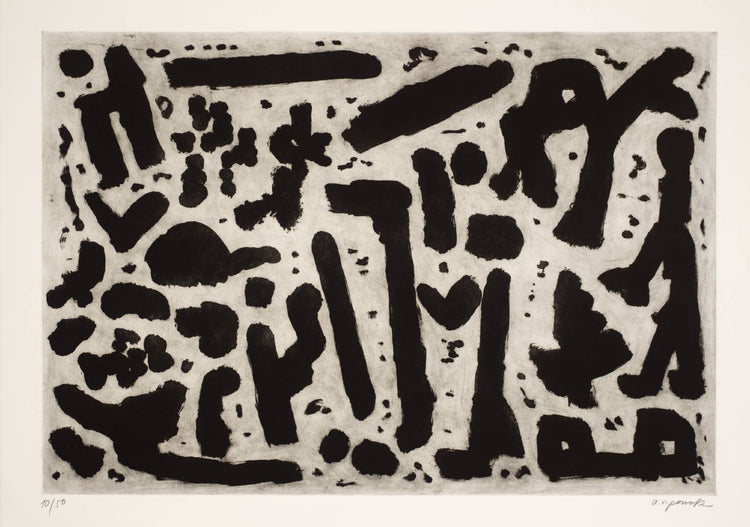 Once again, and all that are available, as we go through the walls and easels of our Gallery, works appear that remind us of names, currents, schools, styles and trends that we dwell on.
Today, the German Penck (Ralf Winkler), born in the mythical and martyred city of Dresden, is our chosen one.I fear it between us and him let's talk a little.
Who is it? What represents? Where does it take us?
Opening let us say that Penck is aman of the seven trades: he paints, sculpts, draws, prints, engraves, organizes performances in which he combines music and plastic expression and he is a highly skilled jazz drummer.
He was born, as we have seen, in Dresden, capital of ancient and prosperous Saxony. City of artistic traditions, among others, of dense cultural past, stage of multiform aesthetic movements, and … theater of war (90% razed by the RAF and the USAF in February 1945), of political struggles, object of the Germany after its "liberation" by the Soviet Army and victim of the looting that only ended with the dissolution of the colony of the USSR euphemistically called the "German Democratic Republic".
Penck, as a student of fine arts, joined the group of "neo-expressionist" painters, later joining the "neo-figurationists", among which Markus Lupertz (b.1941), Jorg Immendorff (1945-2007) and Georg Baselitz (b. 1938).
Living in the repressive environment, hallmark of the communist regime then in force in his homeland, Penck, as well as his colleagues, was the target of constant "democratic surveillance" (read political persecution) by STASI (Ministerium für Staatssicherheit). Over him hung the label ofdissident… True: he was a dissident! Circumstance by which in the Federal Republic of Germany, despite all the obstacles of the totalitarian "GDR", his works became known and by this way recognized in Western Europe as one of the most prominent exponents of the repressed freedom of expression in the East.
In Berlin (West), at the end of the 1970s and during the following decade, his works were exhibited after unspeakable and cunning ways to get them out of Dresden. Of note is the exhibition "ZEITGEIST" (Spirit of Time) held at the "Martin Gropius Bau Museum", rebuilt in 1978, reopened in 1981, curiously located in the Mitte district, a few meters from the western border of divided Berlin. This exhibition was followed by the "Art Show" organized in 1983 by "Tate Britain" in London and later in New York.
Penck managed to pass the "iron curtain" (so called by Sir Winston Churchill) and become world famous.
At the core of this recognition is the use of a pictography that critics have designated as containing a "neo-primitivist and totemic view of the human form". In fact, the same emphasis was, and is, attributed to his sculptural (little publicized) and pictorial works, qualified as patenting an "anti-art aesthetic", given the "rude use and assembly" made with different materials such as wood, cans, cardboard boxes and wires, understood as a search for an "anthropomorphy of symbolisms".
Some analysts maintain that Penck was greatly influenced by Paul Klee (1878-1940) and Jackson Pollock (1912-1956). We do not know, however, Penck's opinion about those who opine about his work.
In addition to being, as we said, "a man of seven trades", Penck is also a kind of nomad as he lives and works both in Berlin and in Dublin, Dusseldorf or New York.
Finally, and "en passant", Penk, a jazz musician, is linked to "Triple Trip Touch" (TTT), a "free jazz" group of which he was one of the founders. He played with big names in the European and American jazz scene and promotes meetings of musicians and visual artists at his country house in Heimbach.