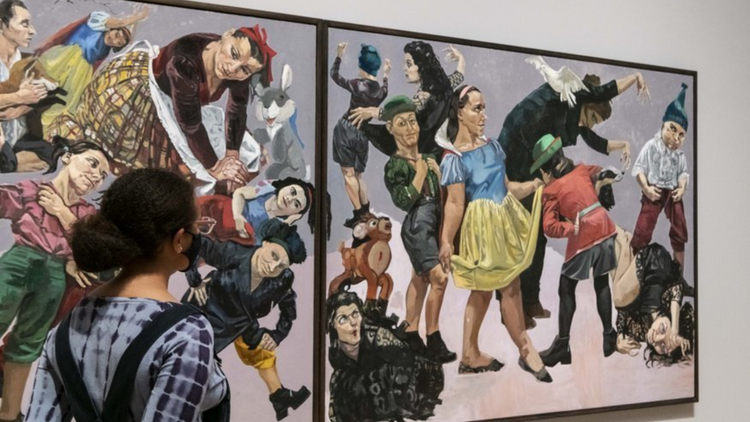 portuguese artist Paula Rego at Tate Britain
The Portuguese retrospective exhibition Paula Rego at the Tate Britain art museum has already opened! In London, there are more than 100 works, ranging from the first, from the 1950s, where references to the dictatorial regime of António Salazar, which he opposed, such as "Interrogação", executed when he was 15, to some more recent ones in which he addresses social issues, such as the series "Aborto", which he produced during the campaign for the decriminalization of the procedure in Portugal. Her son Nick Willing said the exhibition represents a "symbolic" victory over the discrimination she suffered as a woman and a foreigner.
"It's very symbolic because this museum, [during] most of my mother's life, was a museum just for [artists] white men, more or less, and a woman like my mother was always knocking on the door. They never let her in, because she was a woman and a foreigner and, until recent years, that was something that was not appreciated in England", said Nick Willing to the Lusa agency.
It was on display from July 7th to October 24th, being the museum's main event for the summer, and also the largest and most complete of its kind.Paula Rego in the UK, including painting, as well as large-scale collages, sculptures, drawings, prints and pastels. In addition to the political and social context, the work ofPaula Rego it also reflects her personal experiences, namely her childhood, her intense relationship with her husband, the British artist Victor Willing (1928-1988), who died of multiple sclerosis, and her own struggle with depression. The Portuguese painter is recognized for the way in which she influenced British figurative art and "revolutionized" the way women are represented, through canvases such as the "Mulher Cão" series, from the 1990s. private collections, namely the polyptych "Possession" (2004), owned by the Serralves Foundation, and exhibited for the first time outside Portugal. Also unprecedented is the exhibition of the watercolor "The Return of the Native" (1993), which is usually on a wall in the residence of the Portuguese Ambassador to the United Kingdom, in London.
For the painter's son, "A Dança", from 1988, is one of the special paintings in the exhibition, as he himself served as a model while his father was ill. Initially thought to represent women dancing, as in traditional fairs in Portugal, but reflecting their personal history,Paula Rego she followed her husband's suggestion, already bedridden with multiple sclerosis, to also include men in the scene located in Praia dos Mil Regos, in Ericeira.
"My mother thought this was funny. It wasn't because she wanted to do what he suggested, but because she found an opportunity to do a work about him, for him, the man, my father. But since he was in bed very sick and I, at that time, was very similar to him – it was 1988 -, she asked me to wear his suit and put on his shoes and dance like him. That's how I helped my mother with the grief of my father's death. After the process, for my birthday, she gave me one of the drawings she made of me, and which I still have on the wall at home in my home office. Every day I see him and he looks exactly like me, but I only see my father", said Nick Willing.
"By doing the most personal, smallest things in her life, she manages to tell a story that we all know. This is important, because the exhibition has to do with everyone who comes here. It's not just women, it's men too; it's not just Portuguese people, it's people from all over the world", emphasizes Nick Willing. In this exhibition, he continues, "you can see that it is a really important career, because there is so much work here that you can see incredible talent and imagination, an imagination that was created in Portugal".
Who is it Paula Rego?
Born in Lisbon in 1935,
Paula Rego
 left Portugal as a teenager to study at the Slade School of Art, becoming the only female artist in the London School group, distinguishing herself through a strongly figurative and literary work, considered incisive and unique by art critics. At that time, the Portuguese artist coexisted with prominent names in painting such as Francis Bacon, Lucian Freud, Frank Auerbach and David Hockney. Public recognition in the UK came with an exhibition at the Serpentine Gallery in 1988, followed by a residency at the National Gallery in 1990. Paula Rego in 2010, by Queen Elizabeth II, with the rank of Dame Commander of the Order of the British Empire, for her contribution to the arts, and, in 2004, she was elevated to the Grand Cross of the Military Order of Sant'Iago da Espada de Portugal, by President Jorge Sampaio.
This exhibition not only tells the personal story ofPaula Rego, but also the history of Portugal and society in general.Undoubtedly, an exhibition not to be missed!