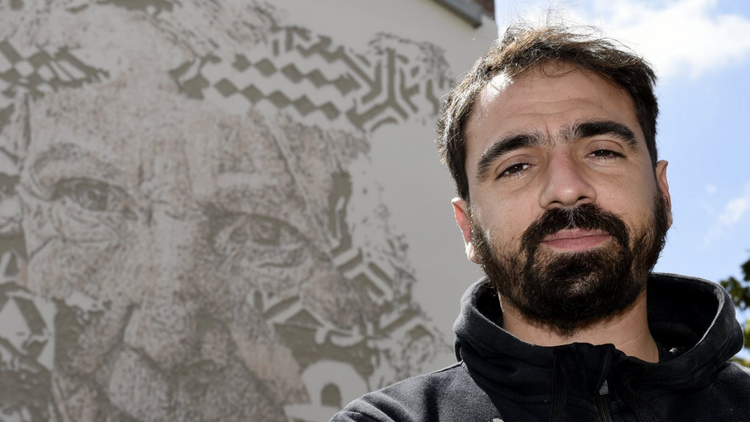 1. Pioneer of a new form of expression
Shepard Fairey firmed about Vhils: "the most exciting characteristic of 'street art' is that, if a certain aesthetic is too sucked by the dominant paradigm, it is possible to find alternatives. Vhils pioneered a new form of expression of which it is, until now, the best representative".
Vhils continues to evolve and push his style forward by sculpting the faces of anonymous figures on a large scale, in order to reveal the hidden underlayers and fragility of urban space. He emerged on the art scene in 2008, creating a revolution through his innovative artistic practice, in which destruction is a form of construction. Vhils became an international phenomenon, mainly for its murals in public space, honoring José Saramago, Zeca Afonso, among others. He often carves faces in public spaces - on the side of buildings - with a variety of tools and materials that can leave a mark or remove materials, including hammers, drills, etching acid, bleach and explosives. In addition to mural sculpture, he has also been exploring other means such as serigraphy, installation and other media, such as advertising posters, wooden doors and metal plates that he collects from the streets.
2. Collaborated with Banksy
Collaborated with English artist banksy, during the years he lived in London. Vhils studied art at St Martin's School, and his work reflects the new cosmopolitanism. The space where he grew up, Seixal, an industrialized suburb across the river from Lisbon (Portugal), profoundly influenced his practice due to the transformations caused by intense urban development in the 1980s and 1990s. Bordalo II, banksy It is Jean-Michel Basquiat, it was in the streets that the basis for his initial artistic production was formed, eventually projecting his perceptions of the outside world through his creative acts.
3.Put Lisbon on the Urban Art map
In recent years, Lisbon has become one of the most recognized cities for urban art worldwide. The Portuguese capital stands out for the diversity of artistic interventions that appear every day on the streets, in the most different spaces.
4. Founded the Underdogs Gallery
Underdogs is a cultural platform based in Lisbon, Portugal, which encompasses a gallery with two exhibition areas, a public art program, the production of artist editions and the development of commissioned art projects. Founded in 2010 and consolidated in its current form in 2013, Underdogs works with a diverse cast of Portuguese and international artists linked to the universe of urban-inspired contemporary art, fostering the development of close relationships between creators, the public and the city.
5. Festival Iminente curator and programmer
Festival Iminente is where the best expressions of urban culture on a global scale come together in an explosion of creativity and entertainment. Since 2016, Festival Iminente has toured five cities in four countries, with a total of nine editions featuring more than 300 Portuguese and international artists. Underlined by the curatorial partnership between Iminente, Alexandre Farto aka Vhils and Underdogs, this is a space for the free spirit of urban culture in all its forms.
6. Vhils produbbed videos for bands like U2
He is one of the most internationally rising Portuguese artists. He carves and blows up walls, makes videos for bands like U2, wants to experience cinema.
7. Vhils entered the world of NFTs
Auction curated by Underdogs intends to transform "ephemeral" art into something "eternal". It is the first experience in Portugal with these crypto assets that are already breaking records abroad.The NFTs have created an innovative digital art movement led by artists and a community of collectors. In Portugal, we highlight the growth of this practice with the artist Alexandre Farto, known for Vhils, for having made great strides in the world of NFTs. This consists of a video that captures the exact moment when the explosives that the Portuguese artist uses in his work – which transforms destruction into creation. The video was filmed through slow motion advanced, including 2000 frames per second, which offers a unique experience and perspective on Alexandre Farto's unique creation process. "Rupture" is part of META_VS: A CRYPTO ART EXPERIENCE IN 3 METAVERSES, a BEYOND THE STREETS action that aims to promote the artistic community on blockchain through exhibitions, piece releases, exclusive artist collaborations and conversations on ClubHouse and YouTube. During these days the NTWRK virtual art fair features exclusive works by the likes of Felipe Pantone, Mister Cartoon, DABSMYLA, POSE and Tim Conlon. The Portuguese visual artist has been captivating the art world for the past 15 years with his unique techniques that consist of subtracting buildings themselves. Vhils has been using everything from scalpels and chisels to drills, to explosives to destroy crumbling walls, revealing realistic faces of local and often marginalized residents. Now the artist has passed this message to NTFS, being the first experience in Portugal with these cryptoassets. Companies such as Verisart facilitated the entry of artists, such as Vhils, in the NFT space. They helped creators use blockchain technology, certify and sell their works. NFTs have become a way for artists to express themselves without censorship, in a free and open access network where they can share their creativity and prove ownership over it.