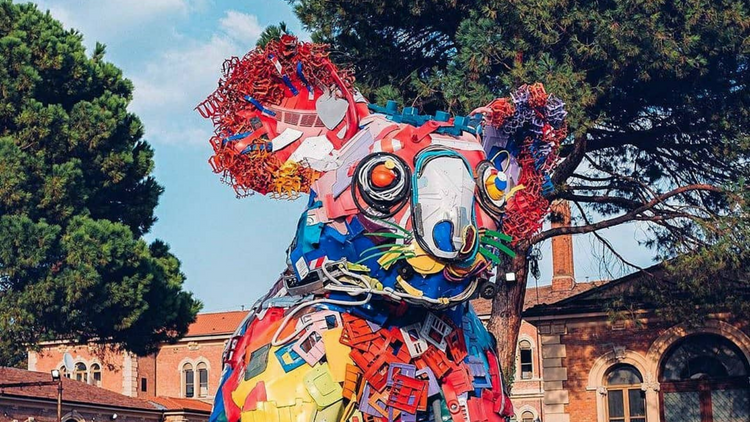 Who is it Bordalo II?
The Portuguese artist Artur Bordalo (1987), known as Bordalo II, became famous for using street garbage to create stunning animal sculptures, with the purpose of alerting people about pollution and all kinds of species that are endangered. From street art he developed his practice, evolving into what is now considered "trash art". His "Big Trash Animals" installations, spread across various locations around the world - public or museum - scream about the need for socio-ecological sustainability. On the streets of his hometown, a series of works, "Provocative" and "Train Tracks", interact with urban fabric and furniture, presenting a new critical look at society, its stakeholders and constraints. These small ephemeral interventions seek to be a vehicle of communication and awareness through art, thus addressing diverse themes, such as pollution, exploitation of women, media sensationalism, connectivity and control, among others.
1. Boosted urban art in Lisbon
In the second part of the twentieth century, we see the explosion of urban art (street art), as a form of expression and communication of a message or brand through images, illustrations or symbols in the public space. This practice insistently begins in the seventies, in New York, with protagonist such as Jean-Michel Basquiat, who began to express their thoughts in street actions. In Portugal, after the revolution of April 25, 1974, there was an explosion of political murals, and today artistic graffiti are sponsored by the City Council, which created the Street Art Gallery. Bordalo II is one of the artists who promoted this boom of urban art in Lisbon. Since 2012, Artur Bordalo has created around two hundred animal sculptures using over 60 tons of recycled materials.
Photography instagram (@adrianwilldie)
2.Uses trash to create your works of art
Waste, namely plastic, metal and electronic materials, became compositional materials, which are transformed and shaped by the artist in the form of an animal. The choice of these materials is Artur Bordalo's way of criticizing the way we live today. Waste, materialism, our own consumerism and the urgent need for sustainability are the themes addressed in their installations. By using these objects, the artists offer them a new life, a new aesthetic and communicative function. In his animal-shaped sculptures, he thus represents an image of nature that screams about the need for socio-ecological sustainability.
Tedius Photography
3.Unfortunately there is no problem to get more garbage
Artur Bordalo told how it all started in an interview with Notícias Magazine where he said: «Unfortunately, I never have trouble getting more junk. My good is the evil of the world. (...) I made a series of works in abandoned places, photographed and sent these images to publicity platforms specialized in urban arts.» Bordalo II is an artist in constant growth, in terms of the proportions of his works, but also in the number of exhibitions at European and American level.
Atr-Aircraft Photography
4.Your grandfather is Artur Bordalo
Artur Bordalo's grandfather, Real Bordalo, painted the urban landscape of the city of Lisbon using oils and watercolors. Nowadays, knowing the power of art, especially in the public space, the young artist transforms this landscape. Its installations, produced from waste, give new life to the city, integrating nature where it no longer exists. These urban visual expressions revitalize the spaces making them more alive, cosmopolitan and contemporary. With a great impact as a communication agent, they have become an integral part of the identity and image of cities. The animals of this young artist are currently found in various national and international urban and museum locations.
Photo by Jornal de Notícias
5.Influenced by Joseph Beuys, Marcel Duchamp, Pablo Picasso and Georges Braque
In a society where uncontrolled consumption and abandonment of practically new products is natural, it is necessary to talk about waste in order to create solutions for this problem. From the 1960s onwards, this environmental and ecological concern was brought to the field of the arts. Many artists began to produce works that questioned our own survival and the consequences of human action on natural resources. At a time when art was thought of as belonging to a closed space, museums, galleries, homes, a growing number of artists began to produce outside. Bordalo II grows with these preoccupations and transmits this disquiet constantly to his works. Its installations show the influence of artists such as Joseph Beuys, who believed that the only force capable of changing humanity and the social order was art, based on human creativity. But also Marcel Duchamp's ready-mades, collages by Pablo Picasso and Georges Braque, among other creations that have transformed our perception of a work of art.
Wikipedia Photography