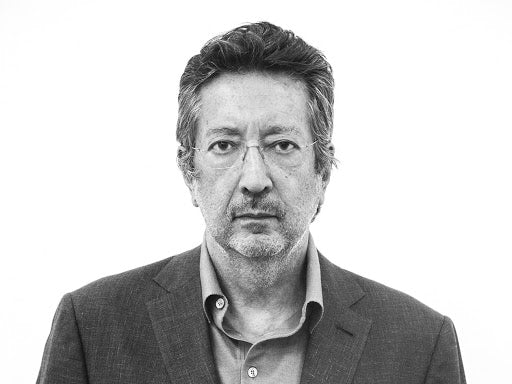 "I don't make art about art. That's not what interests me. It's something about me that is art. It's a physical practice, almost physical, because I make objects that can be seen and in some cases touched. I make art that has to do with practices of seduction." Julião Sarmento, 1992 (interview conducted by Alexandre Melo).
The Fundamental Figure of Contemporary Art in Portugal
Julião Sarmento, one of the most recognized contemporary Portuguese artists, passed away on the morning of Tuesday, May 4th, leaving behind a notorious and emblematic work punctuated by experimentation with all means and techniques. Over the last five decades, the multidisciplinarity of the Portuguese artist's work has addressed themes such as eroticism, sexuality, literature or cinema. At the same time, he questioned the concepts of desire, absence, time and language through different means (painting, drawing, sculpture, collages, installation, video, photography and performance). Born in Lisbon in 1948, Julião Manuel Tavares Sena Sarmento began his career in 1968, at the National Society of Fine Arts exhibition. In the following decade, he conquered the consecration of the Portuguese public; from 1990 onwards, he consolidated his international career, when doing so seemed like a pipe dream. Far from presenting an exhaustive constitution of his works, this article highlights the lines of investigation and creation that Julião Sarmento obsessively explored throughout his extensive career.
The first decade of his long artistic journey
The artistic discourse of Julião Sarmento travels over the decades around certain elements such as the body, sensuality, the notion of time, literary quotations and original texts, the fragmentation of forms, eroticism and voyeurism, regardless of the means used. At the beginning of his career, in the 1970s, there is a set of pieces that are produced by means of expression resulting from the revolution in technical and conceptual languages at the time that enunciate the principles of his future works. Thus, he began by introducing various means such as verbal language into his works due to his interest in literature and the influence of conceptual art.
Variable part - 5 players, from 1976, offers the spectator two possible readings — visual and written — through three elements: photography, text and drawing, forming an almost primary game. Starting from the first photograph in a staging of the body, practically performative, Julião Sarmento asks an outside participant to describe this photograph in a text. Then, another participant draws a representation, based on the reading of that text, and so on, until obtaining a bifurcation of meanings and an ambiguity of the communication systems. This piece on the deconstruction of representation was featured in the relevant exhibition «Alternativa Zero».
Variable part - 5 players in Julião Sarmento, 1976 - Serralves Collection
In this decade of intense production, he created in various media such as photography - Memory Piece (Two Friends) from 1976, Untitled (Bataille) from 1976 and Four Mouvements de la Peur from 1978 — film, — Legs from 1975 and faces from 1976 — or combining different techniques — as in Secrets of the Animal World, a series of works that had a sense of animality, in which he mixed people with animals.


The White Paintings Cycle
By the end of the 1970s, conceptual languages were running out; consequently, artists return to painting. So, in the next decade, Julião Sarmento created paintings with several panels, giving a unique unity to a set from the fragmentation of elements in a juxtaposition. These works were exhibited in various cultural spaces such as Galeria Cómicos, in Lisbon, Galleria Marilena Bonono, in Bari, and Modulo, in Porto. However, with the trip to the United States of America, this association of disparate universes begins to overlap in the same image. An example of this is the work «Noite Americana», from 1989.
american night in Julião Sarmento, 1989 - Serralves Collection
Subsequently, the cycle of White Paintings appears, canvases with an absence of color defined by graphite strokes, being practically drawings on canvas. The titles are not illustrative of his paintings, but complete the work itself, as if they were the last brushstroke. Unlike the previous decade, consisting of several panels, in Wasting My Time With You #928, from 1994, the artist creates a work with only two panels, using his two favorite colors at the time: on the right side, white; on the other, black. According to the artist, on the white canvas two figures are represented, a man pulling his pants when he feels that they are tight and an elbow next to an edge, both carrying an unpleasant situation. Aggression and unpredictable moments are recurrently present in his work with sharp elements such as knives. On the left side, of smaller proportions, a white fence cut in half by the black background is visible. The figures represented in this work are frequent during the artist's career, in the different series, because there is a coherence and a "migration" of thoughts and ideas.
Wasting My Time With You#928 in Julião Sarmento, 1994 - Berardo Collection Museum
In 1997, Julião Sarmento represented Portugal at the Venice Biennale, designing a set of paintings for the spaces of Palazzo Vendramin ai Carmini (Portuguese Pavilion) that extend the cycle of White Paintings, which began in 1990.
In addition to white paints, Julião Sarmento created in other media in this decade. An example of this is the installation siege two, from 1993, which reflects the conditions of women based on a relationship between incarcerated bodies. This work materializes the irrationality in which women are represented, bringing a relationship of power and submission and an anthropology of animal behavior with an animalization of human beings.
siege two in Julião Sarmento, 1993
Career consolidation in the new century
In the first decade of the new century, the artist returned to media already explored in the 1970s, such as video, photography and installation, although without leaving painting. Anchored in a discourse around the body, the feminine, sensuality and the questioning of the concepts of desire, absence, time and language, he created works such as the installation Cure in Anozero — Bienal de Arte Contemporânea de Coimbra, a series of photographs entitled by American Landscape and multiple videos like parasite from 2003, voyeur from 2007 and The end of the world from 2015.
American Landscape 6 in Julião Sarmento, 2004
Between 1967 and 2005, the artist produced more than fifty videos, driven by his passion for cinema and artists such as Andy Warhol, which were a reference for his super 8mm films, where he creates an interaction with a great intensity of movement between the body and the camera, in a game of seduction and desire. The artist detailed the process in an interview with Umbigo magazine:
"Deep down, the camera was almost an extension of my own body. It functioned as my gaze on the body, as an interaction of my own gaze that was filtered by the camera. I was almost like the Japanese (I pass the comparison) who go to visit the great historical monuments and never see them, except when they arrive in Japan. They always have an abstract view of things, because they leave the bus with a machine in their hands."
faces in Julião Sarmento 1976, Super 8 film, color, silent, 44' 22'' - Van Abbemuseum Collection, Eindhoven
With a nationally and internationally consolidated career, his collection of works of art can be found in numerous institutions, from the Tate Modern, in London, to the Guggenheim, in New York. In 2002, he represented Portugal at the São Paulo Biennial and, in 2012, the Serralves Museum organized the artist's first retrospective exhibition, white nights. In 2020, he released the book Café Bissau, in which he presented photographs of his own taken between 1964 and 2017.
During this long journey, Julião Sarmento he became one of the central figures of contemporary art, accompanying the artistic currents that dominated while maintaining his internal coherence. For eternity, the Portuguese artist left us his artistic heritage, fundamental to the history of art in Portugal.