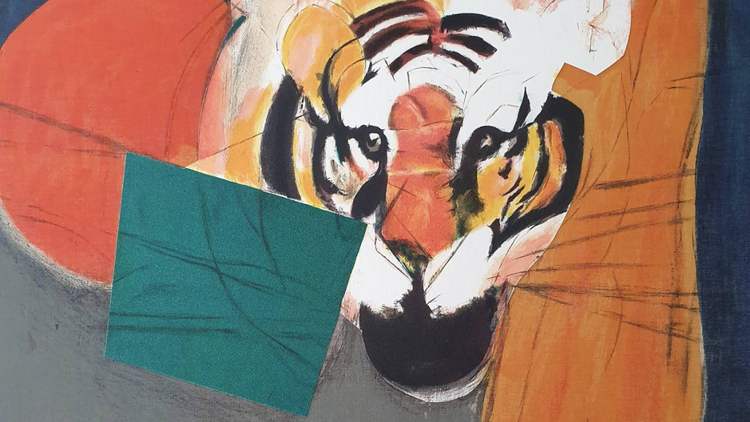 New works by artists from all over the world are added to P55.ART every day. In this new Trending Artists series we highlight works of art that have been heavily researched by our users. Search and find new jobs you'll fall in love with.

Helio Bray
Helio (also known as "Bray") is an artist in constant transformation. Passionate and creative, he grew up far from the big city and only discovered graffiti when he started painting walls. Alchemy and empathy is the necessary technique for this art where everything flows freely.

Benet inHelio Bray 
Large print on art paper (Print manually finished by the artist, unique work of art)
Dimension: 100 x 70 cm
Júlio Resende
Between figuration and abstraction, the works of Júlio Resende (1917-2011) express a transition of artistic movements that end up interconnecting. The Portuguese painter portrayed, in a personal way, his lyrical tastes in the plastic experiments he carried out. He began his career as an illustrator for various periodicals, after completing a painting course in 1945 at the Escola Superior de Belas-Artes in Porto. The expressionist phase began with a trip to Paris, where he studied fresco and engraving techniques. Between 1949 and 1950, he lived in Viana do Alentejo where he worked as a teacher, having developed at this time several dynamic compositions that characterize the social and cultural environment of this space. In 1951 he settled in Porto, continuing to teach and maintaining his artistic production diversified between expressionism, geometrism, gesturalism, non-figuration or neo-figurativism.

Goa SeriesJúlio Resende (1917-2011)
Serigraphy on paper
Signed and numbered EA
Dimension: 28 x 38 cm
Mr. Brainwash
Mr. Brainwash (real name Thierry Guetta) is a French street artist who rose to fame due to his collaboration with Banksy. the style ofMr. Brainwash it has been referred to as a "collision of street art and pop art". He often juxtaposes cultural and contemporary icons (such as Marilyn Monroe, Charlie Chaplin, Einstein, etc...) having been influenced by pop artists such as Andy Warhol It is Keith Haring. Using popular images and themes borrowed from other famous artists such as Jeff Koon's steel balloon animals and "Throwing Man" by Banksy,Mr. Brainwash aligns its artistic intentions with those of original pop artists, producing art for everyone. The artist's debut exhibition, Life is Beautiful (2008), had sales in the high five figures for individual works and received praise from British street artist Banksy. In 2009, Madonna commissioned him to design the cover of her album Celebration. Its major auction debut came in 2010, where Charlie Chaplin Pink sold for $122,500. He currently lives and works in Los Angeles (USA).
Original poster of the first exhibition ofMr. Brainwash in Italy in 2019
Offset lithograph on glossy paper, signed by imprint
Dimensions: 68 x 48 cm
José de Guimarães
Known by the name of the city where he was born, José de Guimarães (1939) is a figure of Portuguese art, who explored various areas from the visual arts, through geology, engineering to archeology. Travels to Africa, Asia and South America marked his career by stimulating and developing an aesthetic language. At the end of the 1970s, he built an alphabet based on the forms and symbols of African culture, introducing this into his works. In the 1980s, he began to explore the boundaries between painting and sculpture, with pieces produced with unconventional materials - fiberglass and paper specifically manufactured by the artist himself. With strong and cheerful colors, his works are characterized by the crossing of themes between animal and human, mineral and vegetable. For decades, the Portuguese artist collected African, pre-Columbian and ancient Chinese art, which is currently on display at the CIAJG - Centro Internacional de ArtesJosé de Guimarães. 
Music byJosé de Guimarães
SerigraphyPA and signed
Stain Dimension: 28x38 cm
Total dimension: 38x55 cm
Júlio Pomar
In constant movement and creation,Júlio Pomar (1926-2018) is one of the most renowned Portuguese artists of the 20th century. During his long creative career, his works addressed issues and themes such as: protest, eroticism, fado, bullfighting, literature, mythology, the Xingu Indians of Brazil, Don Quixote, portraits and animals. Belonging to the third generation of modernists, Júlio Pomar is an artist with works ranging from neo-realism to expressionism, passing through abstractionism. He mainly produced paintings and drawings, but also carried out work in engraving, sculpture, illustration, ceramics, glass, tapestry, collages, theater scenography and wall decoration in tiles. In the last years of his life, he also devoted himself to poetry and music.
Fernando Pessoa reading the newspaper Júlio Pomar
Panel of six framed tiles and thesigned
Dimension: 42 x 28 cm.
Dimension with frame: 56 x 41.5 cm