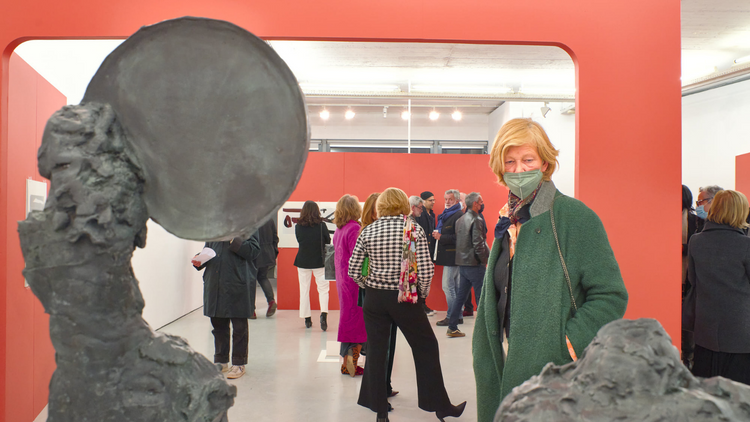 Art belongs to humanity as a whole, so it's more than legitimate to want to enjoy it. There are several museums and centers for the dissemination of contemporary art around the world. Which ones should I visit? Some of the most anticipated exhibits are set to hit the stage during the month of March. With new works from rising artists to the fascinating painters of the 20th century, we recommend five national and international exhibitions, which deserve a visit with lynx eyes, attentive to the smallest detail.

1. Louise Bourgeois: The Woven Child at the Hayward Gallery (London)
The extraordinary new exhibition "The Woven Child" at the Hayward Gallery focuses exclusively on the last two decades of the long career of French-American artist Louise Bourgeois. With around 90 collages, sculptures and installations, it brings together a surprising explosion of late creativity in fabrics and textiles. Louise Bourgeois's life was traumatic, especially her relationship with her father. Bourgeois' parents were tapestry restorers, and towards the end of her life she went back to her roots, incorporating needles, bobbins, embroidery into her works of art.
2. 

João Pedro Trindade in

Seismograph (5 March – 9 April 2022)

From March onwards, the exhibition by João Pedro Trindade will take place at the seismograph. The Portuguese artist has been collaborating in cultural development and dissemination projects such as Panel (between 2012 and 2014), currently integrating the Nartece project team. As an author, he develops his production and research using various means such as painting, sculpture and installation. Since 2016, he has been an official production assistant at the Teatro de Marionetas do Porto company. Recent solo exhibitions include, "the poetry of the earth never dies", Mupi Gallery (Porto, 2020); "and... and... and... what grows between and among other things" L+S Projects (Porto, 2019); and "at the finest strength", Sismógrafo (Porto, 2018). Among the recent collective exhibitions in which he participated, the following stand out, in 2020: "Anuário 19", Porto Municipal Gallery and Youth Foundation and "True Node – Cauda", Artes space, Porto; in 2019: "Sonic Youth" curated by Filipa Oliveira, at Galeria Municipal de Almada, "I will take the risk" curated by Carolina Trigueiros, at Tomaz Hipólito Studio, Lisbon; and "wider than what is known", curated by João Terras and José Maia, Espaço Artes, Porto.





3. Anna Weyant's Splinter at Blum and Poe (Los Angeles)
Blum & Poe presents Splinter, the gallery's second solo exhibition with New York artist Anna Weyant. from the 90s. The five works presented on paper and the four paintings tell the story of a luxurious party that ends badly. In this dark, fantasy-filled universe, golden ribbons fall from outside the confines of each vignette to control or provoke the subject within, and delicate flower arrangements that are already wilted.
Flowers, traditionally a symbol of purity and fertility, in Lily (2021) and Drawing for Lily (2021), are portrayed as beautiful and imperfect objects, fallen and incomplete, whose stamens are cut. The tapes inserted in the works allow Weyant to manipulate the imposed themes, thus exposing the contradictions within the fictional universe and the surreal suburb on which they are based. Throughout the exhibition, Weyant acknowledges and explores the public's fixation with the strange nature of actuality as opposed to expectation by playing with this juxtaposition.


4. Lusque-Fusque Afterglow by João Maria Gusmão at Cristina Guerra Gallery (Lisbon)
Galeria Cristina Guerra presents Lusque-Fusque Arrebol, a solo exhibition by João Maria Gusmão that brings together, in a large installation, bronze sculptures, photographs and magic lanterns produced in the last year around a para-cinematic and literary device on the origin of mnemonics and spectral of the moving image.
His work in partnership with Pedro Paiva, produced between 2001 and 2018, was the focus of individual exhibitions at institutions such as Hangar Bicocca (Milan, 2014), Haus der Kunst (Munich, 2016), KW (Berlin, 2015), Kunstverein from Hannover (2010) from Cologne (2015) and from Munich (with Alexandre Estrela in 20) with participations in the Venice Biennale (2009 and 2013), in the Bienal de São Paulo (2006), and is represented in the most varied collections such as Instituto Inhotim (Minhas Gerais, Brazil), SFMOMA (San Francisco, USA) and Tate Modern (London, GB), Center George Pompidou (Paris, FR), Reina Sofia (Madrid, ES). Recently, in 2021, the Serralves Museum held an extensive retrospective exhibition of his work in partnership with Pedro Paiva. In 2020, João Maria Gusmão collaborates with curator Celia Bernasconi for the exhibition Eugène Frey's Light Set Projections at the Nouveau Musée National de Monaco, since then he has been developing and presenting several exhibitions and curatorial and editorial projects in collaboration with other artists such as Alexandre Estrela, Mattia Denisse, Gonçalo Pena and Mauro Restife.


5. State Contemporary Art Collection at the Serralves Foundation, the Belém Cultural Center Foundation, the Arpad Szenes Foundation – Vieira da Silva and the Contemporary Art Center of Coimbra (Portugal)
The State Contemporary Art Collection was initiated by the State in 1976, through the State Secretariat for Culture. A public initiative, this comprises works carried out in various media (painting, drawing, engraving, photography, sculpture, video, installation), mostly (but not exclusively) by contemporary Portuguese artists.
Tutored by the Ministry of Culture, through the Directorate-General for Cultural Heritage, the CACE is deposited and available in several reference institutions. You can discover works from the national collection at the Serralves Foundation, the Belém Cultural Center Foundation, the Arpad Szenes Foundation – Vieira da Silva and the Contemporary Art Center of Coimbra, among many others, both in Portugal and abroad.